SPECIAL MOMENTS IN A WONDERFUL AMBIENCE
Anniversaries, celebrations, events
Silver wedding, golden wedding, milestone birthday, communion or confirmation – we at the hotel restaurant "Zum Schwanen" have the right location. From 10 to 80 people.
We offer you the framework for extraordinary occasions. The premises in the hotel restaurant "Zum Schwanen" are separated from the rest of the gastronomy and the hotel. You can celebrate undisturbed and enjoy the time with your guests.
We would be happy to advise you!
A celebration or event for a large group of people is not organized every day. We have many years of experience and routine in this area. Let's find an appointment and we'll discuss your wishes, give tips and have ideas.
Kati & Christian Warnke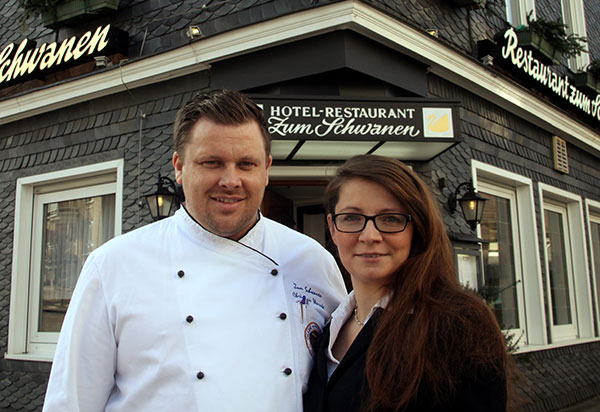 A round birthday, an anniversary or a Christmas party are special events. The hotel restaurant "Zum Schwanen" has a lot of experience and competence in this area – we ensure enjoyment, ambience and a wonderful atmosphere.
Hotel-Restaurant Zum Schwanen
Schwanen 1 | 42929 Wermelskirchen
Fon: 0 21 96/711-0
E-Mail: hotel@zumschwanen.com
https://www.zumschwanen.com
Opening hours restaurant and terrace
Tuesday – Friday
 
06.00 – 10:00 PM
Sunday
 
12:00 – 03:00 PM
Our kitchen closes one hour before
Public Holidays: Please note the separate opening times on public holidays
Your individual celebration is also possible at other times, please contact us.